Why contain Morcellation?
May reduce disseminated malignancy rates
Sac creates chamber to isolate tissue for morcellation
Prevent bowel injury
May reduces risk of Endometriosis & Peritoneal Myomatosis
Reduces procedure time. Tissue/blood residue is contained and removed on sac extraction
Better patient experience & reduced stay in hospital
Improves clinician confidence
Features: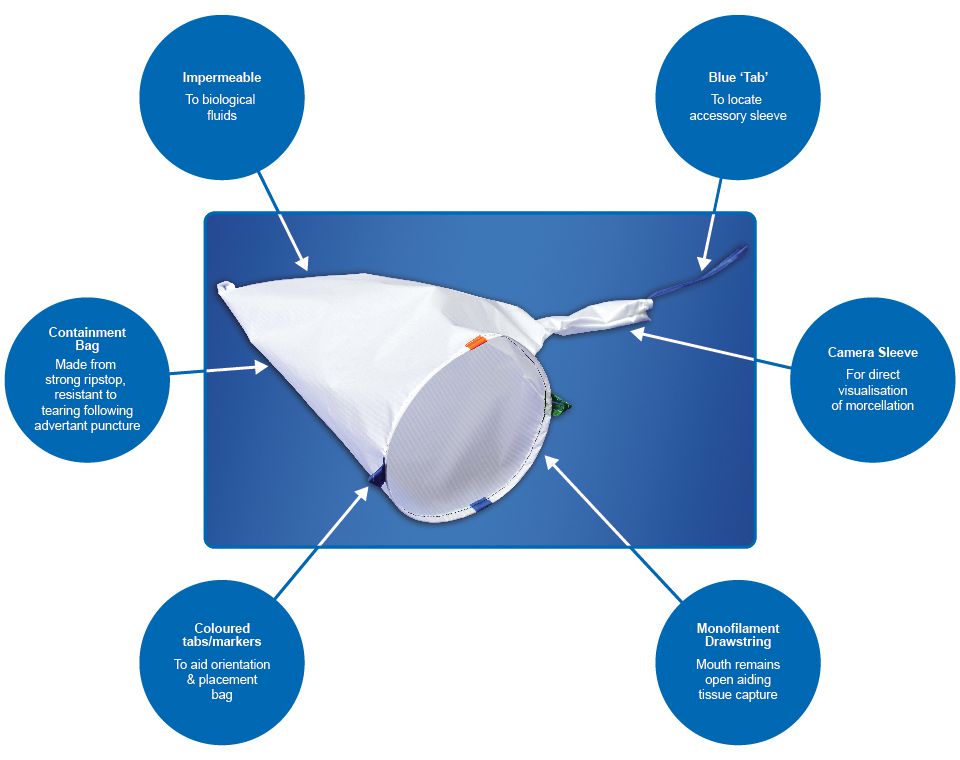 Background
Morcellation refers to the division of tissue into smaller pieces or fragments and is often used during Gynaecological laparoscopic surgeries to facilitate the removal of tissue through small incision sites. When used for a hysterectomy or myomectomy in women with uterine fibroids, laparoscopic power morcellation poses a risk of spreading unsuspected cancerous tissue, notably uterine sarcomas, beyond the uterus. This was found to be at a risk of 1 in 350 patients as quoted by the FDA (www.FDA.gov 2014), however, others have reported that this risk is 1 in 2000 (Pritts et al.2015). Yet, many women choose to undergo laparoscopic hysterectomy or myomectomy due to benefits such as a shorter post-operative recovery time and hospitalization, a reduced risk of infection, decreased bleeding and decreased post-operative pain.
The Espiner ECO-T Containment Bag (which is CE marked) includes an accessory sleeve, allowing the surgeon to morcellate within the sac, thus entirely contained, under direct visualization (by placing the laparoscope through the accessory sleeve). As the tissue is totally contained during the process, this minimizes the risk of potentially spreading the morcellated tissue. Post procedure, the sac and contents are extracted from the abdomen, and the surgeon is able complete the procedure without the need to find lost morcellated pieces.
References
Pritts, E.A., Vanness, D.J., Berek, J.S. et al. The prevalence of occult leiomyosarcoma at surgery for presumed uterine fibroids: a meta-analysis. Gynecol Surg (2015) Volume 12, Issue 3, pp 165–177

http://www.fda.gov/NewsEvents/Newsroom/PressAnnouncements/ucm393689.htm#